Oi Bike Gob fans. Where've you been? First sign of a new year and off you all go and forget about your old pal Bike Gob. Bloody charming. Mind you, BG has been keeping one's saddle down of late so will not hold it entirely against you. It's been a busy old year what with all the hiding from christmas, trying to get around the place on slidey cycle lanes and what not, and of course with all the having to wash the bike down from more salt content than a Greggs cheese and onion pasty after every ride, there has been little time left for much else. But lo and hurray, the sun has come out once more, the cherry blossom is starting to fall and BG is feeling much more enthused about the year.
UNTIL TODAY. Recent inactivity on the angry front has been thrust asunder by some really rather shocking news that has hit BG worse than that feeling you get when you try to bump down that un-dropped kerb at the bit where the Clyde Place bike lane dumps you unceremoniously onto the cobbles of Carlton Place. Incidentally, did you know that curb is in fact the American spelling? As quite the Larry David fan, BG was only recently made aware of this fact, which has been begging the question, if you were to use the word within the phrase "ke/cu/rb" your expectations, which spelling would be correct? Ach, you know, it's of little consequence, but BG will tell you something that really is of certainly very large and very big consequence. This:
It has been brought to Bike Gob's attention that plans for the £9m (hubba hubba!) redevelopment of Byres Road, our Franko christened "jewel in the crown", brace yourselves darlings... does not include segregated cycle lanes!!
Em..... And.... Eh? Sorry... what?! And do you know what it does include? A LANE ON THE ROAD WITH A SUPER NON PROTECTIVE WHITE LINE. With pretty little paving stones. And to it's left, parking. For cars. With doors that open. That have to drive across the lane to park. Oh, and loading bays (about thirteen of them). Oh yes and bus stops and potentially the longest most engine idling taxi rank in Europe. So a pretty pointless lane then, forcing cycling gobs out in front of the Iceland lorries tearing along the carriageway at every obstacle they meet, I'm sure you'll agree.
But hold up Gob, you say, the press release for the consultation promised "safe cycle routes". The Placemaking report for Byres Road established one of the project's visions to "improve it's cycle friendliness". One of it's overarching aims is to "encourage cycling". They must be reducing the through traffic along the street then. Nuh uhhhhh. Nope.
BG was under the impression that we still have a promised commitment to increase active travel to 10% by the year 2020. To be fair, in 2011 we were at 1% and by 2015 we were at 1.2%, so to get to 10% now with two years to go we are going to have to see some pretty major unicorns dancing on rainbows, but still... ANY new traffic redevelopments with this sort of money spent on it CANNOT NOT HAVE SAFE CYCLING PROVISION BUILT IN AS PART OF IT IF THAT STATISTIC IS TO BE ACHIEVED!! And to pretend that anything less than segregated cycling on busy roads is going to be safe for all users is utter, sorry mum... BULLSHIT!!
Just look at Byres Road just now. The traffic on it (which is mainly through traffic with very few people actually stopping and getting out their cars to spend any actual money on the street) is currently insane, and unless that amount of traffic is actually reduced, there is not a chance that BG would send an eight year old down there on a bike. Not even the pesky one that keeps letting BGs tyres down outside the Co-op.
Oh oh oh and look at what Bike Gob found the council found as their third Key Finding, in their results of their so-called "public consultation"!: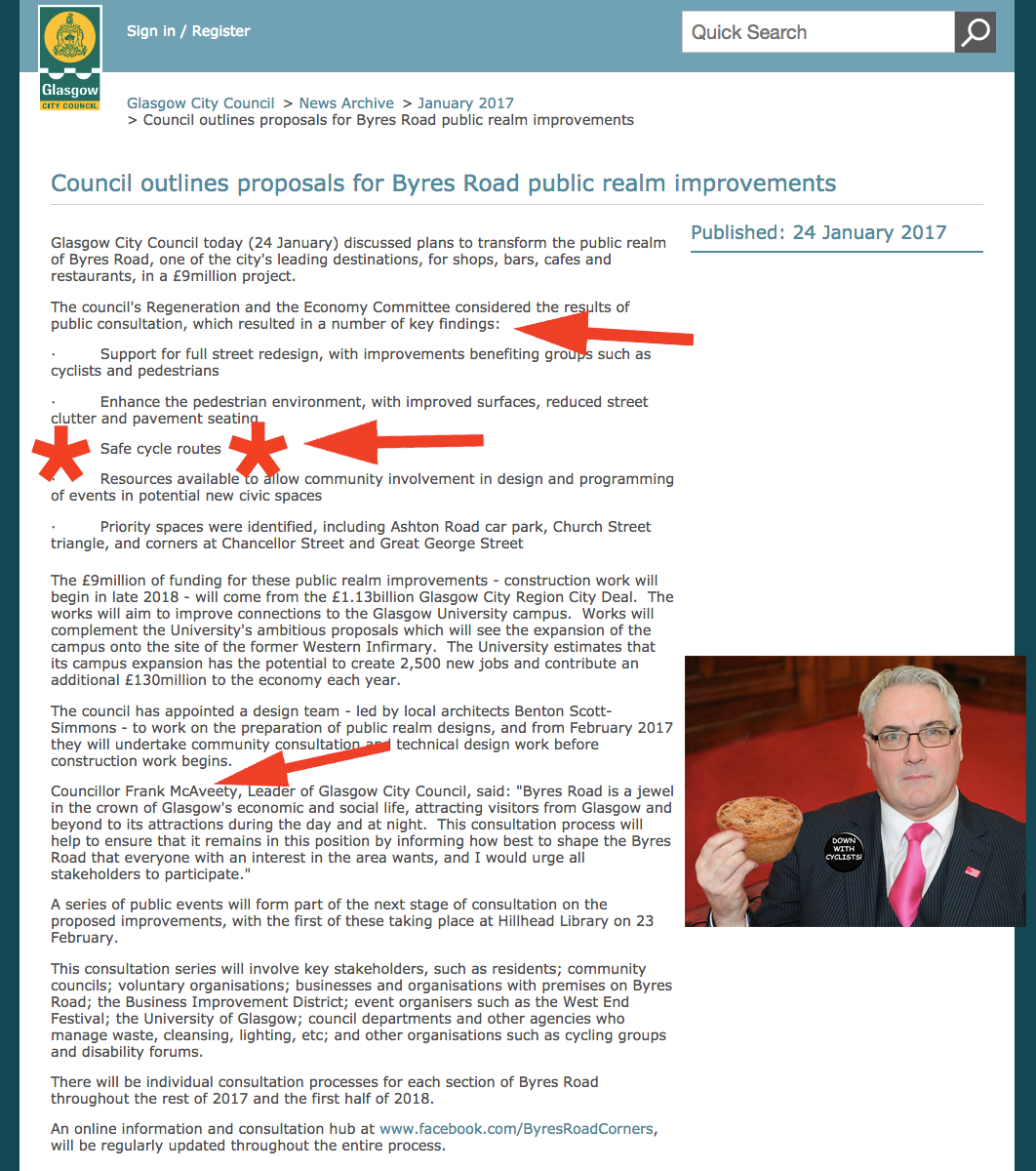 Safe cycle routes! Number THREE finding! And don't even talk to Gob about "ooh bwut thwere jwust iswn't enwough mwoney" because that's utter pish. Look at what has been done in Waltham Forest with £30m - 13 schemes including improvements in FOUR villages (Walthamstow Village, Hoe Street and Wood Street area, Blackhorse Village and Markhouse Village), FOUR town centres, (Chingford, Higham Park, Leyton, Walthamstow and Leytonstone), and creation of THREE major networks of cycle routes (Leyton-Chingford and Leyton-Blackhorse Road and the Lea Bridge Road 'street for everyone'). Waltham Forest has an area of 15 square miles. Byres Road is HALF A MILE LONG.
And ooooh but therew jwust iswn't enwough spwace. GET OFF IT! See those rectangular boxes you have all the way down the road with car shaped white painted lines around them. How come we have space for them? Eh?! The research has shown that the majority of people arriving to Byres Road get there on the subway or on foot. Cars parked on Byres are not using the local businesses. That's usually just ONE PERSON PER MASSIVE WHITE BOX. Get tae.
OK that got out of hand there sorry, Gob has steam coming out Gob's Dynamo, but seriously, this is not on. Go to the drop-ins, fill out the vague survey. Apparently the campaign group GoBike are doing a thing tomorrow. Tell your councillors it's wrong. Help Gob out and make sure people know this isn't good enough any more. Gob thanks you for your time and appreciates your ear. As you were.
disclaimer: Big Franko no longer sits as chair on the big bad City Region Deal cabinet, as he's not the boss of the council anymore - that picture is just up there at the top because BG thought it was too funny not to show twice.