Bike Gob had a brilliant time this weekend checking out the events happening at the second Cycle Hack in Glasgow, the ORIGINAL Cycle Hack, while 25 other cycle hack events happened around the world simultaneously at the same time also as well. If you missed BG's very professional presentation you will find it above.
Aside from the beer obviously, Bike Gob also very much enjoyed the opening presentations particularly from Fran Millar (Team Sky and big Dave's liddle sis) talking about Bike Gob's Inner Chimp, from Norman Armstrong (Freewheel North) talking about freedom of space, and controversially, from Peter Leslie (engineer at Cycling Scotland) who threw up some thought provoking points of view on the difficulties of implementing perfect cycling infrastructure and how campaigners can both hinder and help this.
The tweet banter throughout the weekend was most excellent (aside from the obligatory negative troll face), and lots of splendid connections with all sorts of gobs were made. Bike Gob's camosuit worked and BG managed to stay incognito. Although Cyclehack thought they had BGs identity all worked out they were WRONG.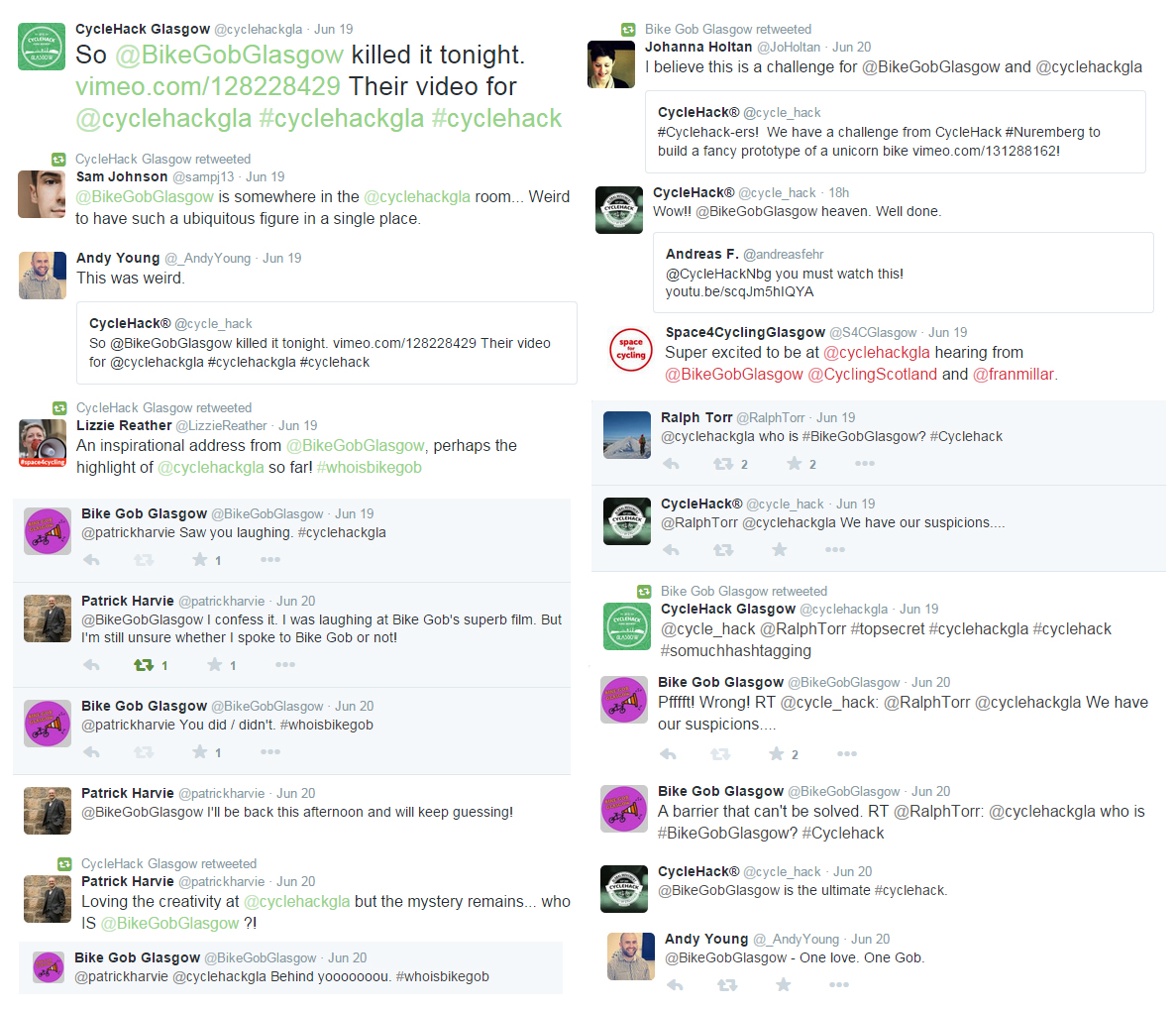 BG's fave hacks were the excellent development of Velo-Scape from Tim Foster (an incredibly useful policy hack developing better access to cycling information for decision makers) and The Suit Book from Stephen Steele at Corner Bikes - a product that if developed, BG would definitely buy for dear suit carrying cycling friends. MAKE IT STEPHEN. Some other super gobs even made a unicorn for Unicorn Bike Land. Get in!
Bike Gob wishes to say a massive thank you and BIG KUDOS to everyone involved. Although still nobody made a hover bike, BG will be back next year. NICE ONE HACKEROOS!